Location was the key to the success of this park. Previous efforts to develop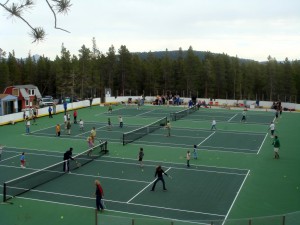 an outdoor ice skating venue had met with failure due to the harsh effects of wind and sun on the ice. By sculpting the park out of a hillside, a wind and sun screen was created by the surrounding land and trees.
The conversion of the ice rink to tennis courts in summer allows the park to be used year round by the community. It has become a gathering place for people of all ages to enjoy tennis and ice skating in a natural, open air environment.
Another factor of the park's success was its proximity to the local elementary school and neighborhood, which allows for convenient use by local youth.