The concept behind this park was to create a place which could accommodate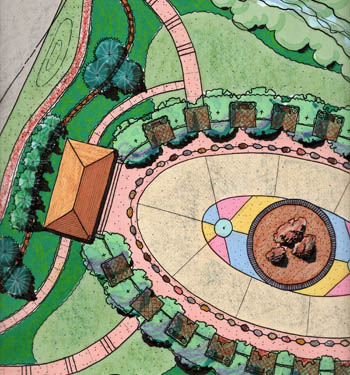 many different users  simultaneously. Located in the center of the downtown Nederland park system, the park is organized around the theme of concentric zones of activity. The more active uses are sited in the center with the more passive uses occurring around the outside.
A rock sculpture for climbing is the focal point, surrounded by a large oval for young bicycle riders and skateboarders. This zone is separated from a surrounding walking path by low steps and a series of river boulders. The path is punctuated by seating areas with benches and shade trees, which can also be used as tent sites for local festivals. A gazebo and restroom facilities anchor opposite ends of this multi-use park.