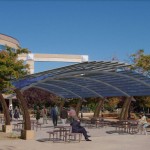 December 2009 – UCAR (University Corporation for Atmospheric Research) selects TurnburkeAssociates to prepare plans for renovation of an existing plaza at their Center Green campus in Boulder, Colorado. The design will feature a fabric covered shade structure and a xeriscape demonstration garden. This project will create a more inviting environment for employers and visitors, while greatly reducing water consumption.
May 2009 – NedSk8 held it's Grand Opening of the Nathan Lazarus  Skatepark. Funded in part by The Tony Hawk Foundation, Greater OutdoorsColorado, The Town of Nederland , NedSk8 and private donations, the opening included an appearance by Tony Hawk himself.   TurnburkeAssociates provided layout for the entry to the park and future development of the seating areas around the park. For more information on the park itself go the www.Natanlazarusskatepark.com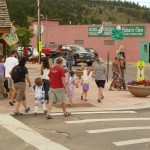 April 2009 – TurnburkeAssociates is selected as a design team member working in collaboration with Loris and Associates, civil engineers, on the design of sidewalks in downtown Nederland. This project is the first phase of implementation of the Nederland Downtown Development Authorities'  Master Plan completed in 2007. It will enhance pedestrian connectivity in the town and will feature retaining walls, parking areas, a creek overlook area, a bus pullout, new highway striping, bicycle racks, and new storm water conveyance system.
July 2008 – The Carousel of  Happiness broke ground on their site in Nederland, Colorado and plans to be in operation by the summer of 2010.  TurnburkeAssociates has been working to site the building and provide an outdoor seating area for families, visitors, and residents to picnic and enjoy the carousel activities.  TurnburkeAssociates worked in collaboration with Caribou Ridge Architects on this energy efficient building and park space that will bring  joy to the town of Nederland and its visitors for years to come. Check out the progress on this wonderful project at their website, www.carouselofhappiness.org
January 2008 – TurnburkeAssociates has moved to a new office space in the Nederland Community Center. This new space is a delightful, light-filled work environment planned with the help of Mela Breen and Dave Good, a local achitectural design/build team. The tenant finish of this space included low-VOC paint, recycled newspaper insulation, and the re-use of cabinets from the old school. This move represents a long-term commitment to the Nederland community by our firm. We had considered the Boulder/Denver metro area for our move due to economic considerations, but felt that planting roots in our local community was the right choice.
December 2007 – Plans for the Wild Bear Center for Nature Discovery have been approved by Boulder County Commissioners. TurnburkeAssociates served as landscape architect on the project, collaborating with Barrett Studios, architects, in the preliminary design of a nature center located on Mud Lake Open Space. The site design features creek side learning stations, interpretive trails, and a trailhead kiosk constructed from an abandoned school bus on the property. The building includes an earth-sheltered "kiva"  amphitheater with a green roof, and a straw bale and glass structure which opens to a sun-filled plaza area.
July 2007 – TurnburkeAssociates and studio h:t begin collaboration on the design of what is hoped to be the first LEED certified modular home in Colorado. This infill project in Denver, Colorado was conceived of as two boxes that slide above one another to create outdoor living space and a lower covered rear entry. The water conserving landscape features drought tolerant grasses and crushed gravel areas which reduce the impermeable surface are of the site, while providing a usable surface for outdoor living.